Scummy rocker
Pete Doherty and his best friend Peter Wolfe
have been charged with possession of cocaine after police investigated the suspected overdose death of heiress Robin Whitehead in London.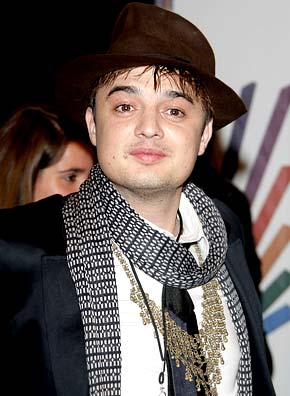 The 31-year-old Babyshambles star was charged with holding the class A substance when he answered bail at a central London police station.
He was one of four people arrested after the 27-year-old film-maker died from a suspected overdose on January 24. It has been claimed the star attended a party the previous night at a flat in Hackney, east London.
A Metropolitan Police spokesman said the star will appear at Thames Magistrates' Court alongside two other men on October 18 for sentencing
.
Miss Whitehead, known as Robyn, had spent the last 10 days of her life filming a documentary about the singer who has battled with drugs. She was the granddaughter of the late Teddy Goldsmith, founder of The Ecologist magazine.
The documentary film, The Road To Albion, focussed on Doherty's former band, The Libertines, as she spent a lot of time with the singer. Her website showed pictures of Doherty with his body encased in plaster, lying on a board in a crucifixion pose.
Miss Whitehead's mother, Dido Whitehead, is a cousin of Jemima Khan and Zac Goldsmith, and her father is 1960s filmmaker Peter Whitehead.
Hopefully this time Doherty will pay for his actions, he said at the time that he was "shocked and saddened by the tragedy but hopefully he'll actually learn from it as well.