Yay.. it's sale time again and if you're more clued up than me you'll have saved your pennies up and had enough to grab a bargain or two.
First up is the gorgeous jacket from Juicy Couture, it's reduced down to £145 from £290 and makes me think of Chanel without the scary price tag. It will also work every season come hail or shine. Be quick though there are only a few sizes left!
I've been lusting after these Chloe sandals since April when I spotted them on a passerby. For me they represent summer and style as well as fantastic value at £267, reduced from £445
I love a good jacket and this waterfall one from whistles is another classic, especially at £110 down from £175..love is in the air..
Channel 70's chic and grab a bragain with this fabulous little white leather bag from Anya Hindmarch, I've wanted one for ages and all the waiting has finally paid off.. well it will do come pay day. it's now half price and £125
I'm a sucker for a black dress and I love this one from Jigsaw. I find Jigsaw a little bit grown up sometimes (says the 30 year old) but just imagine this 100% silk dress with a purple snood at a festival, with a nice blazer for work or with a pair of very high heels at a wedding. You see it is a good investment at £99.00.
I've a slight obsession with stripes, as far as I'm concerned it's not like it's dangerous so I might as well embrace it. I'm just going to pretend you know what I mean.. anyway this dress is a snip at £17.35
Another dress, another dollar, or £35 to be precise. This dress will go great with everything, I only wish I had it yesterday during this heavy heatwave.. just rain already! Paisley perfection..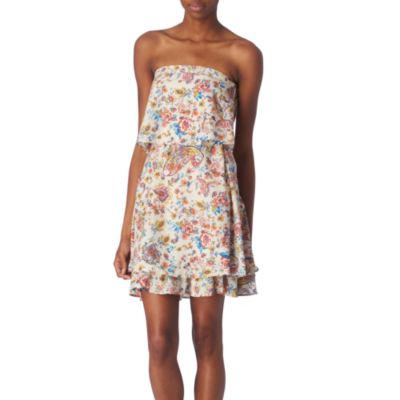 Keeping the prints theme going is this scarf from Matches. It's not really the season but how fabulous is this crumpet cashmere green leopard print scarf, and it will be fab come September or any cold evening you get chilly and wanna look slick, it is still pricey at £138 but buy nad you won't be disapointed
Please fashion fairygodmother please buy me this pink bag so I can live happily ever after..or at least until I fall in love with another brightly coloured bag. It's also from Reiss which always has one of the best sales, especially when you get candy pink bags like this for only £66
And last but not least my dream dress for a wedding that I've got in three weeks time. yeah I'm starting the diet tomorrow, well Friday.. I've a big night on Thursday. I digress. This is the power bandage dress from Preen and I WANT IT.. sorry! It's reduced from £809 down to £399 so grab, an admittedly expensive, bargain